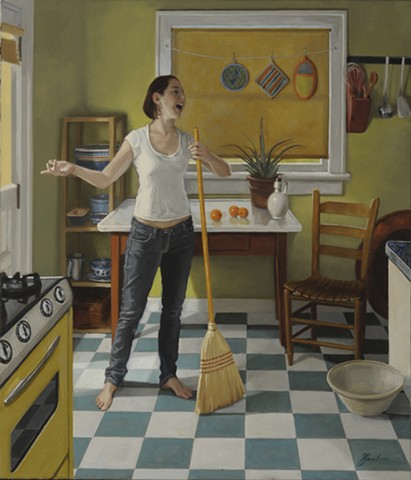 The paintings on these pages represent the best of my work. The subject matter of my paintings is simple, often domestic, and usually specific to my own life, but the issues I attempt to portray are human and universal: solitude, intimacy, isolation, comfort.
The Portfolio is divided into several sections. Current Work is...recent. The Trailer Series paintings date from 2000 to 2009; Pink Bathrobe collects paintings with the bathrobe as a prop or costume. More paintings of people are in the Figures and Faces folder; watercolor and acrylic paintings (some nudes) and drawings in Works on Paper; paintings of eastern Carolina marshes and fields in the Landscape folder; and earlier work in the Archive.
Recent paintings, work in progress, sketches, experiments with materials, subjects and methods, as well as occasional studio notes about paint and process are in my blog.
To inquire about purchase, please contact Charles Jones at Carteret Contemporary Art in Morehead City, NC. To arrange a visit to my Charleston studio, please click on "contact" above.